Bulletin Board
(3/29/05 - Present)
Click here for: (3/4/04 - 3/16/05)
4/18/09
Come to the Veggie Pride Parade 2009
Sunday, May 17th

3/20/09
Israel may BAN fur!
Israel creates a precedent by submitting the world's first nationwide bill "Prohibiting the Industry of Fur". Knesset member Nitzan Horowitz proposed on March, 18th 2009 a bill to prohibit the fur industry in its entirety, including all importation, production and all sales in Israel; illuminating that his intention is "not to lend a hand to this cruelty towards animals."

In light of this bill, Israel takes a giant leap forward; from having no existing law concerning fur; to becoming the first nation on the planet to completely protect all fur bearing animals from the suffering and death inflicted upon millions of animals at the hands of the fur industry the world over.

"The International Anti-Fur Coalition' thanks MK Nitzan Horowitz for his proposal and we call all MKs to support this bill," said Jane Halevy, Director of the 'International Anti-Fur Coalition'. "We hope that Israel will inspire other countries and they too will propose comparable bills throughout the world".

Last month, a report on Israel's channel 10, led by SPCA Israel and International Anti-Fur Coalition, had revealed that items from the top fashion chain stores to cheap toys in bazaars, that what was being sold as fake fur was indeed real fur. Lab tests had shown that several articles taken from leading Israeli brands and sold as fake fur were made of dog and rabbit fur!

Each year millions of animals are brutally killed for their fur throughout the world. Animals live in tiny cages made only of wire, before being gassed, electrocuted or even skinned alive! Footage shows that some of them fight against death for up to 10 minutes in total anguish after being skinned alive!


Laura Pontini - Helping dogs in Romania
Stray dogs suffer horribly in Romania. A one-woman army named Laura Pontini has been rescuing and sheltering them.

My friend Pam and I created a MySpace page for her:

Her official Web site is: http://www.lamentorumeno.org
S

8/22/06
The Plight of Seals in Namibia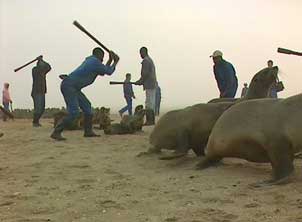 An Exposé by Seal Alert - SA : Facts about Namibian Seal Hunt
Sign On-line petition: Stop the African Seal Hunt
Sadly, Seal Alert SA's web site is down. Francois Hugo will build a new web site soon. Right now, he is too busy helping seals and trying to push for legislation to stop this brutal massacre.

8/8/06
Year of the Dog (Massacre) in China
In a disproportionate and horrifyingly brutal response to three human deaths from rabies, Yunnan officials have massacred 54,000 dogs and plan to kill another 500,000. All of this could have been avoided had China taken part in cost-effective and humane trap/neuter/release, spay/neuter, animal birth control, mandatory vaccination and public education programs. The unimaginable cruelty and brutality involved in killing these animals seems even more vile in light of recent celebrations of the Year of the Dog, in which pampered canine companions were glorified. This gruesome massacre, in which China has shown a blatant disregard for animals and the people who love them, has been drawing international outrage. In case their skinning of cats, dogs, and other animals alive for fur (as evidenced in undercover videos circulated last year) was not enough, this latest abomination screams out for a worldwide boycott of China.
What you can do:
Sign online petition at Care2 web site: Say no to dog massacre in China
Email the Chinese Ambassador Zhou Wenzhong: CHINAEMBASSY_US@FMPRC.GOV.CN
Go to Congress.org, click on Media Guide, write to all national Media, demanding that they publicize this horrific situation.

Compassion Over Killing MTV Ad:

5/3/06 (updated 12/7/08)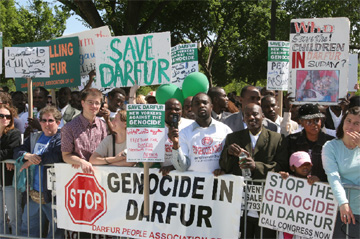 Please - sign every petition to demand our leaders intervene and stop the genocide in Darfur.
Become educated and active: Darfur Action Campaign
Some more background and petitions: AJWS, 24 Hours For Darfur, Save Darfur.

3/8/06
Time is SHORT. We must put pressure on the Canadian Government to end this horrific massacre!

July, 2006
a documentary by Mike Shiley

1/27/06
NYC Carriage Horses Need YOUR Help!
Click here for alert: NYC Carriage Horses

11/19/05
Celebrate a Compassionate Thanksgiving
This holiday season, give a turkey something to be thankful for and impress your friends and family with delicious, animal-friendly versions of traditional Thanksgiving foods. Check out our new Compassionate Thanksgiving Recipes brochure and try some of our favorite vegan versions of popular dishes such as mashed potatoes, stuffing and gravy. Pre-made vegetarian feasts from Tofurky and UnTurkey also make a tasty and cruelty-free meal that is sure to please everyone at your Thanksgiving table.

10/30/05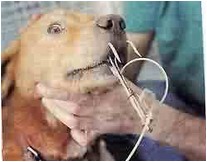 Live dogs used as shark bait on the Galapagos Islands.
Please read story here: Dogs as Shark Bait
Sign petition here: Fondation 30 Millions d'Amis Petition

10/10/05
Help Earthquake Victims: UNICEF

9/24/05
For Information on how to help victims of Katrina: Click here
8/1/05

PETA's Animal Liberation Exhibit

(no longer available for viewing)

5/11/05
January '05

Click here for info on Tsunami Relief: